In the spring of 2012 I signed on to manage online content for ADDO, UCSD's largest student run art show, which was held over May 29th thru May 31st in Price Center's East Ballroom. Little did I know that in a matter of a few short weeks my title would be changed from online content editor to "producer" as I got further involved with the organization of the event. This new title that was bestowed upon me required working with a team of about five core members to distribute tasks and make decisions regarding the event.
Along with the events co-producers some of our responsibilities included:
Weekly meetings regarding event planning
Meeting with administration regarding our grant and budget
Creating a budget for expenses

Booking the event space

Renting seating

Purchasing equipment and hiring fabricators for art walls

Getting insurance for the event

Organizing with A/V staff

Handling catering

Handling artist submissions
Event itinerary and scheduling
Managing volunteers
Managing staging of live performance and panel discussions
Hanging up pieces and properly labeling them
Creating and distributing pamphlets
Scheduling pickup times for artists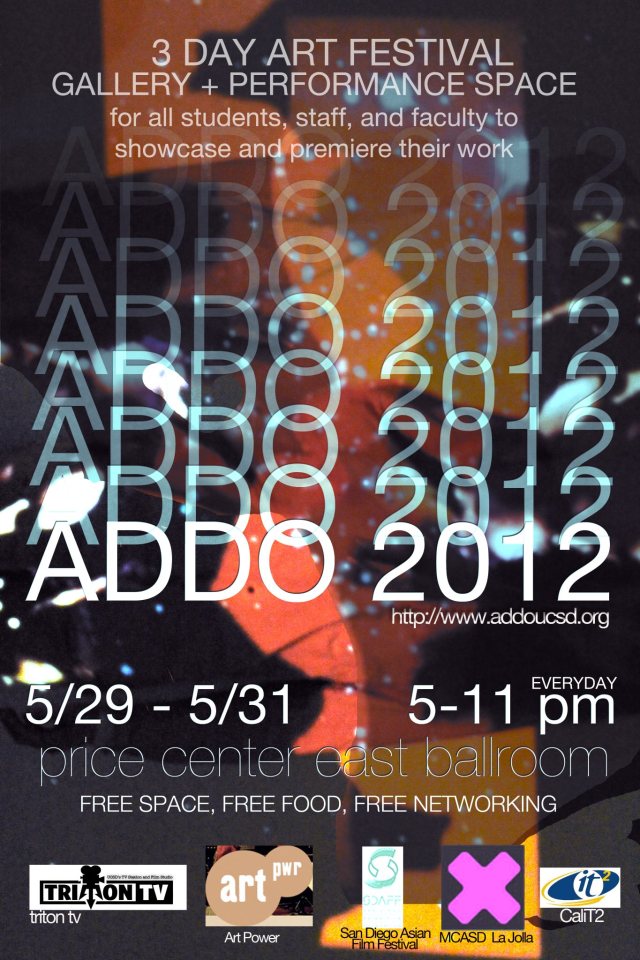 All of this while working on my own submission to the show titled Transcode.
The event was a huge success and was well visited by students and guests outside of UCSD.
Student press link here. Video reel here. Event pamphlet here.
High-Quality video ad:
http://vimeo.com/41937838
Interactive virtual tour I created for the space (direct link):